Former Silver Cloud Inn in downtown Bellevue to open as family shelter
Image
Mary's Place, the region's largest family emergency shelter provider, according to Patti Payne in her Puget Sound Business Journal column, is opening their first Eastside shelter, a four-story building at 10621 NE 12th Street.
Earlier this year Mary's Place, a nonprofit, closed four small shelters due to requirements of Covid-19.  The Emergency Family Shelter intake line is being bombarded with calls with over half of families not being accommodated with sheltering as all beds are full.
According to Executive Director Marty Hartman, they need size 6 diapers and pull-ups especially.
The developer, SRM Development of Spokane, bought the property in May and is providing the property for shelter use rent-free temporarily.  The nonprofit will be able to shelter families for the next two years while permits are being processed.  The cost of shelter operations will be picked up by DocuSign CEO Dan Springer, at a cost of $2 million annually.  
The City of Bellevue, police, businesses and other organizations are in support of the shelter.
Link to Puget Sound Business Journal story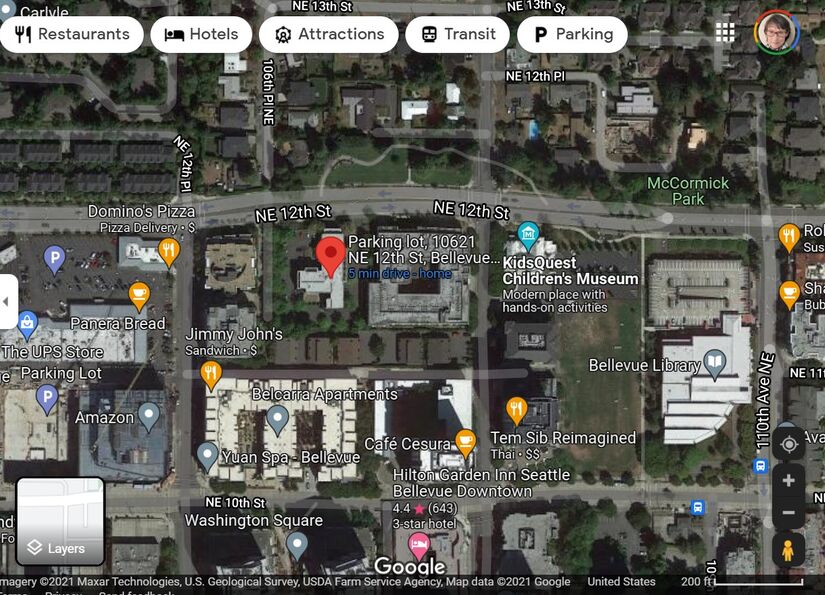 Image: googlemaps
Replies
This is wonderful to see charitable funds being used for Mary's Place and homeless people!  Thank you for these links Linda!  I appreciate it!