Recap: Bellevue City Council meeting December 13, 2021
Image
Transit:  
Council member Jennifer Robertson serves on the Regional King County Transit Committee and reported back that; for two years the committee worked on the guidelines, policies and strategic plans and Metro's Capital plan, called "Metro Connects."  The policy was reviewed in order to make sure it serves all 38 cities in Metro's region.   After stages of approvals by other committees, the policy documents have been unanimously approved by King County Council.  Equity was put as top priority so that Transit targets historically marginalized populations.  Transit plans to support King County's growing population, to include residential and job growth areas.  
Oral Communications from the Public:  
Ten residents signed up to speak and a few unregistered speakers brought their issues before the City Council zoom meeting.  Most speakers talked about the need for affordable and alternative housing with a few bringing the topic of traffic congestion planning to the Council.  The East Main Land Use Code was encouraged to be adopted by one speaker.
Support of the updated draft northwest Bellevue neighborhood plan (Ordinance 6635) and affordable housing alternatives.
Major comprehensive update plan of Bellevue and housing topology of alternative housing in the neighborhoods, one size does not fit all.  
Supporting safety and environment being emphasized in the draft of the northwest Bellevue neighborhood plan.
Omitting northwest 24 from the draft which would omit DADU's (detached accessory dwelling unit's) from the plan from their neighborhoods and create another survey for this topic.  It doesn't make sense to move forward with city policies with such low engagement on this issue being reported on the city's survey.
Agenda Item 12-C, Ordinance 6633 Comprehensive Plan amendment to encourage the Council to amend the language of TR2 so it reads "to reduce" traffic congestion rather than "manage" congestion.  
Asking Council to retain the policy striving to reduce congestion.
Supporting environmental stewardship and residential energy efficiency.  Creating a scalable program to support low-income, affordable housing, and reduce energy bills for low-income residents.  
How to settle in Bellevue and start a family when not working in lucrative careers.  The need for low-income renters.  High cost housing is available that are unaffordable.  The need for DADU's and more choices for housing for families and house their elderly parents.
Asked Council to adopt the East Main Land Use Code and allowing a grocery store to be part of the East Main neighborhood.  
In support of adopting the 6633 mobility implementation plan to support Bellevue's growth.  For TR-2 reducing congestion in downtown and being able to course-correct when needed.
Supporting Ordinance 6631 and increasing production of affordable homes and providing more housing choices.
Bellevue's Award: 
The City announced it's technology staff has again won a 2020 Digital Cities Award for the fifth straight year in a row.  This award is for the city's creative use of technology.  Bellevue won third place for 2020.  It encompasses digital services provided to the public that have a positive impact and matter to the public in being able interact with their local governments.  The award considered the city's data management, analytics, networking and security, digital innovation, culture and leadership, application development, user-centric technology, and providing of cost-effective services.  Also considered were partnerships, community and high-speed connectivity.  
Overview of the 2021 Residential Performance Survey:  
Toni Call from Finance & Asset Management presented the Performance survey's "Top Line Results" were presented in PowerPoint slide format providing the six marquee key indicators: Quality of life, quality of City services, value of services for tax dollars, direction the city is headed, and Bellevue as a place to live.  New data shared was the sense of belonging.
The summary was that most people felt an emotional connection to our community and our needs are being fulfilled in the community.  There was less feelings of having influence over the community and whether they had membership in the community, depending on how long residents had lived in Bellevue.
Each slide presented the following points:
Overall quality of life in Bellevue:  94% of residents reported that Bellevue either exceeded or greatly exceeded expectations.  
Overall quality of City services:  90% reported that Bellevue either exceeded or greatly exceeded expectations.
Value of services for tax dollar paid:  76% reported getting their money's worth or definitely getting their money's worth.
Direction the city is headed: 76% reported the direction is somewhat right or strongly right.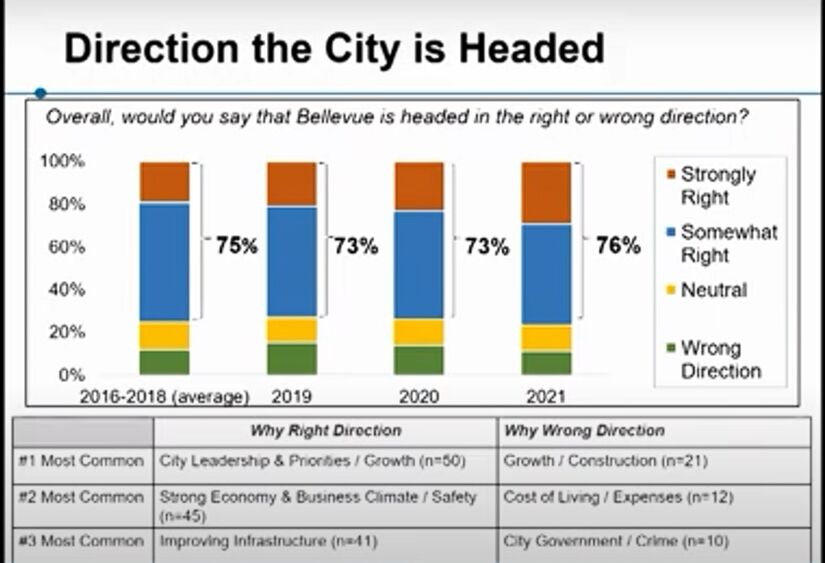 Bellevue as a place to live:  97% reported Bellevue is good or excellent, up from 95% in 2019.
Neighborhoods as places to live:  95% reported their neighborhoods were good or excellent places to live, up from 93% in 2019.
New questions: Sense of belonging:  This was a new area being surveyed with four categories being 1) emotional connection; 2) influence; 3) membership; and 4) needs fulfillment.  It was found that age is the most influential factor across all categories.  People aged 35 or older had a much stronger sense of belonging than ages under 35.  
The breakdown results were:
Emotional connection:  75% somewhat or strongly agreed to having an emotional connection to the community.
Influence:  49% felt they had influence by or influence over their community.
Membership:  42% somewhat or strongly agreed to feeling a membership with community.
Needs fulfillment:  80% somewhat or strongly agreed with needs being fulfilled living in Bellevue.
The five 2021 plan amendments voted on whether to adopt:
DASH's Glendale and Evergreen Court: Ord. 6631:  Ord. 6631 was  adopted. Proposes to go from multifamily medium to neighborhood mixed use.  To accommodate additional density and provide affordable housing on these two sites.  
Transportation Ord. 6632:  Ord. 6632 was adopted.  To repeal the Comprehensive Transportation Project List (CTPL) from the Comprehensive Plan.
Multimodal policies Ord. 6433: Ord. 6433 was amended and adopted.  Amend the Transportation (element to embed a multimodal) approach to transportation concurrency.
NE Bellevue neighborhood area plan Ord. 6634: Ord. 6634 was adopted. Replace Volume 2 NE Bellevue narrative and policies with new narrative and policies; amend NE Bellevue land use map to new borders; amend borders for adjoining (Crossroads and SE Bellevue) neighborhood areas.
NW Bellevue Neighborhood area plan Ord. 6635: Ord. 6635 was adopted.  Rename Volume 2 North Bellevue Subarea Plan to NW Bellevue Neighborhood Area Plan; Replace Vol. 2 North Bellevue narrative and policies with new NW Bellevue narrative and policies.
2021 Comprehensive Plan Amendments: General Ord. 6636:  Ord. 6636 was adopted.  This covers the 5 individual ordinances as a general or umbrella ordinance that approves the entire package of amendments for year 2021 pursuant to the Growth Management Act.
Link to City Council meeting on YouTube
---
Please support The Bellevue Zone.  Subscribe to our newsletter!