South Bellevue park-and-ride garage is open to park cars and bikes to catch ST Express and King County Metro busses
Image
The parking garage at the East Link South Bellevue Station is open for ST Express and King County Metro riders.  The garage is at the same park-and-ride location as before: 2704 Bellevue Way SE, Bellevue, WA 98004. 
There are no parking fees at this time but Sound Transit could implement a paid parking system at some time in the future and there is currently no charge to use bike racks and cages, according to a news release by Rachelle Cunningham, Public Information Officer for Sound Transit.  
The garage contains 1,500 stalls, bicycle racks and bike cages for secure storage of up to 35 bikes with more to be added when East Link opens.  East Link opens in 2023.
According to the news release, the following service is available:
"With service to Seattle every 15 minutes on weekdays and Saturdays, and 30 minutes on Sundays and late night/early morning hours, ST Express 550 riders can use the garage to quickly and conveniently transfer to Link light rail to destinations between Angle Lake and Northgate, including local sporting events. ST Express 556 serves the University of Washington and Husky Stadium".
East Link will provide traffic-free travel between South Bellevue and the downtown Seattle International District in 14 minutes and SeaTac Airport in 48 minutes.
Schedules and bus stops for ST Express routes 550 and 556 are here:
https://www.soundtransit.org/ride-with-us/schedules-maps
King County Metro routes 241 and 249 are here:
https://kingcounty.gov/depts/transportation/metro/schedules-maps
Other features of the garage include: View of Mercer Slough and public art by Katy Stone.
More information about East Link can be found at this link: 
https://www.soundtransit.org/system-expansion/east-link-extension.
TBZ published a few previous stories about East Link:  
East Link Light Rail Project Update: Progress Videos Taken September 5, 2021.
East Link Light Rail Extension 60% Completed; Due To Open In 2023.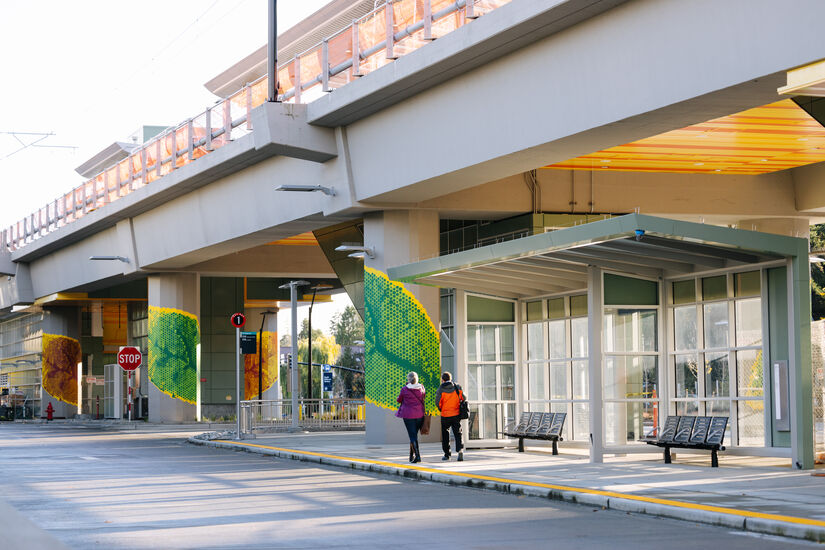 Photo: Courtesy of Sound Transit
---
Please consider subscribing to and supporting your local Bellevue news at The Bellevue Zone!