Governor Jay Inslee's Proclamation 21-16 Issued To Verify Covid Negative Test or Vaccination Status For Large Events Effective November 15, 2021.
Image
Governor Jay Inslee has issued a large event vaccine verification emergency order, Proclamation 21-16, that states verifications are required to prove one's vaccination status or negative covid-19 test results within the last 72 hours to be enforced three state counties: King, Clallam and Jefferson counties.
This Emergency Order becomes effective on November 15, 2021 in order that patrons area allowed into bars, restaurants, clubs and gyms, according to Inslee's press release.  The emergency order was announced October 14th in a video press conference.
Businesses can download signage that let's the public know that they must provide covid vaccination status or a negative Covid-19 test result before entering into the establishment due to King County's Order that the business requires proof of COVID-19 vaccination or a negative test before entering the establishment.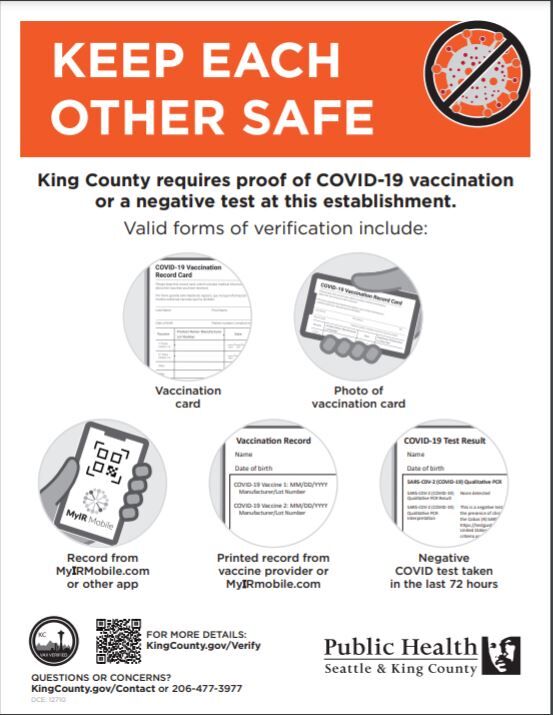 (Image: kcvaxverified.com/tools)
Due to business owner's having concerns that unvaccinated patrons may become rude or threatening, the Public Health Department along with the Seattle Metropolitan Chamber of Commerce provided resources and hosted a webinar so that business management can better prepare for possible difficult situations in the event that customers may become hard to deal with over the vaccination enforcement rule.
King County Executive Dow Constantine said, 
"Vaccination is by far our best defense against Covid-19, and with over 87% of King County residents having received at least their first vaccine dose, this vaccine verification policy ensures we can protect our community's health and economy," according to a report by Puget Sound Business Journal yesterday.