Election 2021: Bellevue City Council Candidate Forum Summary
Image
Six candidates are running for Bellevue City Council on November 2nd.
The six candidates running for three positions are as follows:  
Position 2: Dexter Borbe and Conrad Lee
Position 4: Ruth Lipscomb and Deputy Mayor Jared Nieuwenhuis
Position 6: Dr. Gina Johnson and Mayor Lynne Robinson
Each candidate was given approximately one minute to introduce themselves and what knowledge, experience and skills they would bring to the City Council.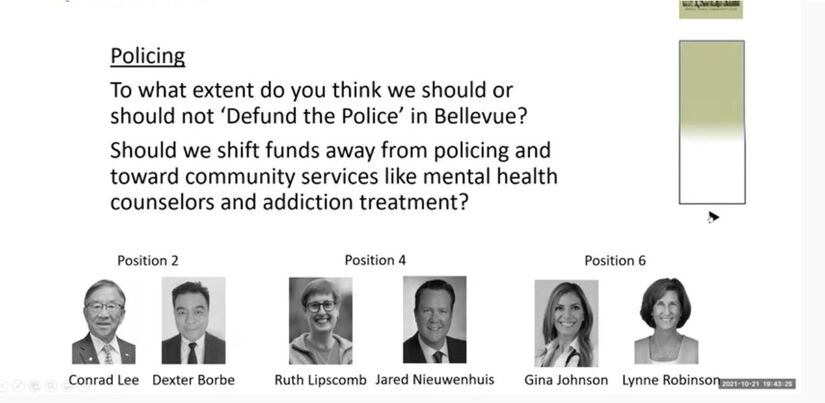 (Photo courtesy: Bridle Trails Community Club YouTube channel)
Below are paraphrases of their answers to the first question of the forum.  The entire forum is linked to this link on YouTube.
Question 1: Growth & Infrastructure: Is Bellevue growing too quickly?  How will you help manage the city's growth, and infrastructure, while ensuring we remain safe, beautiful, and one of the best places to live?
Conrad Lee: Bellevue is growing faster than expected, one reason being the unexpected presence of Amazon.  How well we manage this growth depends on how capable we are to plan, our vision, what kind of council members we have, that we need people who have the experience who will manage growth well.   Since we cannot control our economic cycles and other things but we can control what we do.  Growth brings challenges; transportation, housing, environment and many things.
Dexter Borbe:  He thinks Bellevue is growing rapidly to achieve it's vision as an economic and cultural center.  He doesn't think the problem is how fast Bellevue is growing but has not been in balance.  Bellevue has grown in business and attracted a lot of companies which is fantastic, but it hasn't kept up in terms of housing, transportation or services.  This imbalance affects the quality of life.  There will be a lot more people coming to Bellevue to work and live here, 100,000 more.   We need to make sure there's enough housing and transportation is attended to with transportation solutions and management we need to make sure essential services are available to everyone.  
Ruth Lipscomb:  She said if you've been here awhile Bellevue is growing to quickly but not fast enough if you haven't been here awhile.  A lot of people want to come to Bellevue so good planning is needed, growth has swamped Bellevue lately.  King County has said we're going to need 35,000 new housing units before 2044.  So we have to build properly and put the growth and housing where we want it to be, we have to make sure that our infrastructure and services keep up.  Growth shouldn't cause us to cut down all our trees, we need to add more parks with the numbers of people coming to Bellevue.  More planning is needed for the growth we've already had.
Jared Nieuwenhuis:  He said councilmember Lee is right, the growth is unanticipated to a certain extent because Amazon is a unicorn, very few companies in the world is doing what Amazon is doing right now.  Prior council's were preparing for this growth but were not expecting it until 2030 or later.  The key is to have experienced council members who are able to shift, who focus as in the past few years on the consistent effort of where we put that growth: downtown, Bel-Red, Wilburton, Eastgate.  As part of that we must protect our single-family neighborhoods that have their unique characteristics.  In recent years to meet the needs of Bellevue's growth we've expanded the capacity of existing roadways to better connect downtown, Wilburton, Bel-Red and compliment the future of East Link light rail that's coming in.  There's also been a lot of improvements with the TIFFIA loan that we got in 2017, Spring Blvd. opened up recently and our pedestrian-bicycle system came into our city.  We need to continue to fully fund out police department and keep our green spaces wonderful, friendly and lively.
Gina Johnson:  Bellevue has changed it's stance from a city in a park to the place where you want to be.  Our current council has already embraced growth as part of our future vision and the challenge that we're seeing is our infrastructure is not aligned with this current growth.  We have a Growth Management Act and it is expected that growth would happen but our infrastructure should be aligned with it.  Right now our city is taking a reactive stance to growth rather than proactive.  We are behind in traffic mitigation and this impacts our neighborhoods, such as bringing in housing and increased density so we need to revisit The Great Neighborhoods Program and involve our neighborhoods more so they have a greater seat at the table. Growth can happen but still retain our neighborhood feel and our comfortable lifestyle here.  She thinks people still like to think of this as the "City in the Park" but also where you'd want to be.
Lynne Robinson:  She thinks Bellevue is growing really fast, but growth is not just happening in Bellevue, it's happening everywhere, in our entire region, in our neighboring cities.  You can't stop growth but you can plan for it.  Bellevue has won numerous awards for doing the infrastructure in advance of growth, such as the Spring District.  To manage the growth we are experiencing and are going to experience we need to embrace that 15-minute city concept of enabling people to live near where they work, have a walkable community to easily access parks and open spaces and increase the number of people that are working in Bellevue that are living downtown, so all that developing that's happens is to support that.  We need to maintain our focus on high public safety, excellent public schools, parks and green spaces, and continue to be a welcoming and inclusive community.  
The following answers have been condensed from their one minute answer down to just a few points each candidate made.
Question 2: Housing: What will you do to prevent homelessness and unauthorized tent encampments in Bellevue?  How will you plan ahead vs. purely reacting?  How will the City pay for your plan?
Lynne Robinson:   She believes in compassionate enforcement but we can only do that if we provide shelter beds for people experiencing homelessness.  We're building the Eastgate shelter, working on affordable housing, building micro-housing near transit would be another way to prevent homelessness.  We need to expand services.
Gina Johnson:   Homelessness has it's roots in substance abuse/addiction, poverty  and mental health crises.  To address these we need treatment programs and have partnerships with businesses and faith communities and treatment facilities.  Our compassionate response is not compassionate nor responsive.  People can still choose that lifestyle; we don't offer resources for these problems. 
Jared Nieuwenhuis:   He agrees with the mayor that compassionate enforcement is working so residents need to vote for who will enforce those laws and have the political will to maintain those laws and keep Bellevue special.  We are aggressively attacking the homeless issue: it's complicated.  The Eastgate campus will provide services in one hub and we've hired an additional homeless outreach coordinator as well.
Ruth Lipscomb:   We have 12,000 homeless people in the region, over 80% of the homeless on the Eastside became homeless on the Eastside.  Due to having one of the highest rents in the state we are pushing more people into homelessness.  We need to preserve our low-rentals and supports permanent supportive housing that's coming to our area.  We will need to support the 8-6-6 program for mental health crises coming into the state and nation.
Dexter Borbe:  Supports compassionate enforcement and services for the homeless.  Homeless people suffer from mental health, substance abuse or convictions and have financial problems.  Some people have lost their jobs, went through bankruptcy or lost their housing, suffered domestic abuse.  Each type needs its own solution.
Conrad Lee:   It's not what we want to do, it's how to do it.  As an immigrant from Hong Kong, not with a silver spoon in his mouth, so we all know how tough things can be.  We want to help so everyone has a place to live but it's how to do it.  For the last 30 years we've been working on it with a regional housing effort but it's much more severe now.  We must be cautious in government and the mayor talked about what we are doing.
Question 3:  Policing:  To what extent do you think we should or should not "Defund the Police" in Bellevue?  Should we shift funds away from policing and toward community services like mental health counselors and addiction treatment?
Ruth Lipscomb:  We should not defund the police.  That's a slogan, not a policy position and it's not helpful.  We need to fully fund our police but above and beyond that we need community services for treatment as part of public safety.  We have to come up with more money for public safety.  She supports a new 9-8-8 behavioral health phone number system being newly implemented our state and nation and we need to have systems that can support that.
Jared Nieuwenhuis:  He wonders if his opponent thinks residents of Seattle think it's just a slogan?  We see sky high crime in Seattle and is proud to be endorsed by the Bellevue Police Officer's Guild and Bellevue Police Management Association.  He supports 100% our police and we increased police funding in our last budget cycle.  We already provide mental health counselor and addiction programs when our officers go out with the Cares program.
Conrad Lee:  He says they will not defund our police, we need to look at mental health and services, and he advocates for community policing.  It's increasing money, our police need adequate safety.  It makes our community attractive and safe.  Addressing funding and reasons why people become homeless like the Deputy Mayor suggested.  We need to be fiscally responsible to come up with money, not just use taxes.
Dexter Borbe:   He values the safety of property and people, our public safety needs to have the resources they need, we need the boots on the ground for investigating to capacity and police work as our population grows.  Police need the resources so that people know crime does not pay in Bellevue.  Firefighters and other responders are part of public safety.  Transparency is needed to protect the officer's and the public.
Gina Johnson:   She believes we should fully fund our police and fire, Bellevue's response times are a bit lower than the national average so that needs to be remedied.  She's gone on a ride-along and met with police on the beat.  Morale is low and recruitment is very difficult due to the defund the police movement or slogan, however Ruth described it as.  She lives in downtown Bellevue and witnessed for four hours downtown of the looting under our current leadership and her opponent. 

Lynne Robinson:   We need a more nuanced approach to public safety with better response to people in crisis.  Bellevue has a very high safety rating.  It makes her sad to hear her opponent talk about the police so disparagingly about the May 31st incident as police were outnumbered by 300 protestors.  We did not get the police reinforcement promised, all surrounding cities were also struggling.  When she called the national guard the protesting stopped.
The last half of the forum included the candidates talking about their top three priorities, followed by a public Q&A session and making last comments.
You can hear the forum in its entirety at this link.
---
Please support The Bellevue Zone by subscribing and sharing.