North Sector Roundtable Zoom Meeting Focused Heavily On Homeless Issues Impacting Bellevue.
Image
The North Sector Roundtable was presented to the public yesterday by the Bellevue Police.  Police and city staff hosting the meeting were: 
Captain Darryl McKinney; Captain Landon Barnwell, Patrol Division & West Sector; Interim Police Chief Wendell Shirley; Meeghan Black, Public Information Officer; Ruby Daley, Crime Prevention Coordinator; Theresa Cahill, Neighborhoods group; Mark Tarantino, Patrol Major; Chris Long, Transportation Dept. & Assistant Director for Mobility Operations; Sara Kesperski, Investigations Admin. and also in attendance was Mayor Lynn Robinson, counsel members Janice Zahn, Conrad  Lee and Deputy Mayor Jared Nieuwenhuis.  
Hosts of the zoom meeting took questions from the public about their concerns and police protection in their neighborhoods.  The public was invited to type in their comments and concerns in the chat box, toward the end the public was asked to unmute their microphones and directly ask their questions.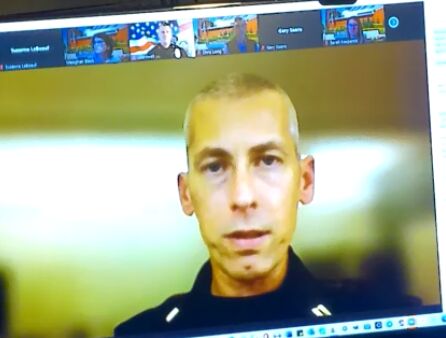 (Photo: Captain McKinney | The Bellevue Zone)
Captain McKinney began the meeting with his prepared topics.  Traffic concerns with a lot of speeding, in areas where there's building going on such as in the Spring District and the big tech companies such as Amazon and Facebook bringing in traffic congestion.  Citations are still being written for loud mufflers.  The best way to contact police about a complaint in a certain area is to go to their online traffic service request page to fill out their form.
If you see something that is not an emergency, call the non-emergency number at 425-577-5656, or if you see someone being extremely reckless or need emergency services call 9-1-1.  If you're not sure if it should be an emergency call, you can call 9-1-1 who will handle your call properly.
McKinney said there has been an uptick in homelessness and that this is a region-wide challenge.   Some homelessness is caused by COVID, some by lack of room in shelters also due to COVID.  There has to be more spacing in the shelters causing less availability for people to be sheltered as well as the vaccination mandates.  He said police can only clean up encampments of the homeless if there is shelter space available but COVID has created more homeless people and fewer places for them to get a night's sleep and stay dry.
He said police are taking a "compassionate enforcement approach" and offer people services for homeless people where possible and try to get them help if they want it.  At the same time they are "going to hold them to the rules and hold them accountable and make sure that they are abiding by the law."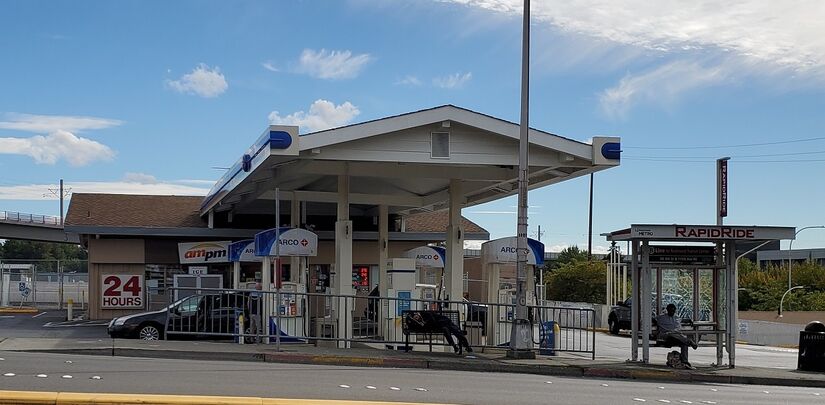 (Photo: a man lies on a bench and a man sits in the bus stop shelter | TBZ)
There were several questions about how police are dealing with homeless issues and also asked about how Bellevue police are prepared to deal with issues that may arise from the Silver Cloud Inn to house the homeless located in Redmond.
McKinney said that King County DCHS is in charge of the Silver Cloud Inn facility through the Health Through Housing Initiative.  According to his conversation about the facility with King County he said it is not a shelter.  People will be referred who want permanent housing, who want to get back on their feet and they want help.  
There are 144 units available that is "expected to open by January at the earliest is what I was told."  The Bellevue police won't handle calls at the site because the hotel is located in Redmond but they will be called to any calls in Bellevue that may come in related to the Silver Cloud Inn.  He said they are coordinating with Redmond police, having meetings, making phone calls, meeting with a Redmond Lieutenant and exchanging emails with Redmond police "so we have a good plan going forward and are on the same page with how to keep crime down and make sure they will be addressing issues that pop up when the site opens."
He said that all the areas in Bellevue are coordinating around the opening of the Silver Cloud Inn "making sure we are ready in the city of Bellevue for this."  He said they are talking to King County DCHS to get the details "on exactly what this site is."  McKinney acknowledged that Bellevue will have "some impact" from the hotel but feels Bellevue police will be ready and will "do our absolute best" in meeting any challenges they face with the opening of the hotel.
Interim Chief Shirley said that he's been in communication with Redmond's police chief regarding the Silver Cloud Inn.  They visited the hotel location together and are "closely monitoring and are in communication with Redmond."
McKinney spoke to the county who told him there were services with staff onsite available around the clock every day of the week.  Staff will help people with mental health crises, other issues and be able to provide resources to support residents of the hotel.  The staff will know what's going on with the residents in order to try and help them get back on their feet.  The county expressed a desire to keep troublemakers out and only place people who want to get better and back on their feet.
The rumor of having a needle injection site near the hotel was a concern due to signs placed in the area.  One member of the public spoke up about the signs that McKinney suggested not be removed but would look into them.
Other issues discussed were police strategies to keep Bellevue safe.  Issues such as how police would respond to a bomb call near the light rail that travels through several cities, or how the need for a SWAT team might be needed to make public safety the top priority.  Light rail incidents such as a traffic accident with a light rail train or a vehicle hitting pedestrians from a police perspective would require a police viewing the need for safety from all angles.  
Chief Shirley said in Santa Monica they found that their light rail train never brought in a lot of crime as some had feared but that they strategized as how police would respond to the different situations that Bellevue could potentially experience.  Captain McKinney concurred from his experience in law enforcement in Tempe, Arizona when a new light rail was built. He said the light rail brought in customers for their businesses and restaurants.
Shirley said they'll be communicating with the county as to who will be responsible for train security, security of the platforms, and how Bellevue PD will be the immediate responders to light rail incidents with the county being responsible in part for the light rail trains. 
Other topics responded to were about increasing numbers of residents, new buildings, growing traffic, car break-ins, theft, shoplifting, bicycle safety, shoplifting and concealed carry laws.
The West and South Sector zoom meetings occurred during separate times.  The City announcement was provided at this link on Bellevue's city website.