One Washington Offers Religious Exemption Workshop To "Uphold Basic Rights And Duties As Citizens."
Image
One Washington offers in-person and online vaccine mandate exemption workshops.
The group is "an aggregator of people who defend our constitutional rights" who are about "pro-rights."  Their aim is to educate, organize and activate people with Constitutional, pro-rights information.  It is not designed to be legal advice.
Co-Presidents are Larry Godt and Tom Jonez, Mike Brown, VP of Operations, with guest speakers: Jesse Young, 26th District Rep, Mike Rich, Senior Pastor and a video from a pharmaceutical business manager.
Introduced dignitaries present were; State Sen Jim McCune (2nd District), State Sen Chris Gildon (25th District), Pierce County Councilwoman Amy Cruver, Rep Kelly Chambers (25th District), and Rep Jesse Young (26th District).
The main instructor was Jesse Young.  Young expressed during the workshop that; 
"The extent by which the governor is exercising his emergency powers is beyond the scope of law."
A workshop leader made the point  that with the governor's "proclamations" that he is trying to make "rule of law" instead of leaving that to the legislative branch.  The governor is to execute the law, not proclaim it.  It would have to survive Constitutional, legal and/or Judicial review or get the agreement of the legislature to have the effect of law.  
(Register: One Washington's "Religious Exemption Workshop")
The workshop was during the time of the governor's emergency powers (8/13/2021) so the audience was instructed that this mandate did not fall under the rule of law.  According to Gov. Inslee, the last vaccination for state, school staff and health care provider's must be done by October 4th to meet the fully vaccinated plus two weeks mandate by October 18th.
The Pfizer-BioNTech COVID-10 vaccine was FDA approved on 8/23/2021 (U.S. Food & Drug Admin).
During the workshop Young discussed how people of faith hold the right to be free from discrimination because faith is a type of creed found in the state law under Declaration of civil rights (RCW 49.60.030).  He said, 
"people of faith have the right to obtain and hold employment without discrimination as well as having the right to engage with health maintenance organizations without discrimination."
In these two instances he said the governor is "doubly wrong." 
Young pointed out how the legislature changed the law in January to support the governor's emergency declaration to last beyond 30 days because the majority party in the legislature voted "to make us remote" so in the first week of January they changed the law (RCW.06.022 - State of emergency - Powers of governor pursuant to proclamation (4)) that extended the emergency order.  
"The legislature will not check the governor so therefore we have lost that power right now, that's why the legislature is not checking the governor.  They changed the law."
Then he pointed out in the second clause section (g) that the emergency proclamation cannot conflict with federal law, or conflicts with the First Amendment.  He discussed how people feel they have not been given due process when they are threatened with losing their jobs unless they get "the jab."  
Specifically Washington state declares in Article 1, section 3, that;
"No person shall be deprived of life, liberty, or property, without due process of law."
This state law aligns with federal law in the 1st and 14th Amendments.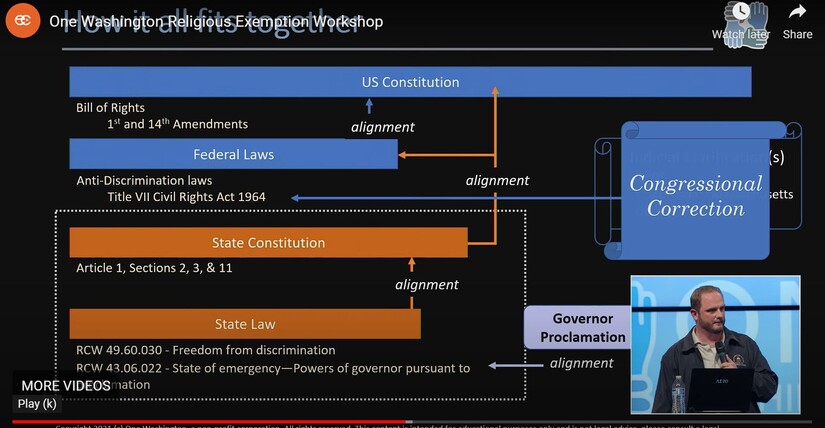 (Image courtesy: One Washington)
Young said that Title VII of the Civil Rights Act of 1964 states that it is unlawful employment practice to discriminate against individuals because of their religion.  
He said;
"You have a protected RIGHT to be free from discrimination, especially as it comes to the practice of your religion."
He cited the Freedom from discrimination clause where;
"Any person deeming himself or herself injured by any act in violation of this chapter shall have a civil action in a court...,"
authorized by this chapter or the U.S. Civil Rights Act of 1964, or the Federal Fair Housing Amendments Act of 1988.
One Washington was formed at Harborview Fellowship  in Gig Harbor that was the lead plaintiff in a lawsuit against the governor when he tried to impose a lock down on churches in 2020 to open back up churches, and they won.  
Young said that every time the governor relented on restrictions on churches in that court case, it happened the day before a particular court case they were about to have.  Finally the governor made a motion to dismiss the case "to save face".  He went to the federal judge and wrote,  "we have never enforced that mandate on churches, we never will enforce it and we never could enforce it because it's not a legal mandate."  
"The governor is playing a game to try and get you to correct yourselves outside of the course of law."
The takeaway here is that;
"Governor Inslee has no authority to change federal law."