Rally Update To Support Medical Freedom and Protest Gov. Inslee's Vaccination Mandates
Image
Tyler Miller, organizer of the upcoming, "No, You Move" medical choice anti-vaccination rally to take place October 3rd talks with Matthew Hayward, National Outreach Director for The Freedom Foundation in Olympia.
Hayward got involved in the movement against mandated vaccinations during the lockdown that happened last year.  He said that a close friend committed suicide that was the catalyst to get Hayward wanting to pushback against the lockdowns.
After Miller's first big rally in Olympia on April 19, 2021, Hayward noticed the lack of porta-potties at the rally so met with Miller to help him get a number or porta-potties at the next rally Miller organized on May 9, 2020.   The two started working together organizing rallies after making sure the porta-potties were there to accommodate the large number of rally-goers.
Miller is going for big numbers showing up at the October 3rd rally and wants to "hold the line and not give in" to the overreach of Gov. Inslee's vaccination mandate.
All Washington State Patrol exemption accommodations have been rejected-Miller noted Jason Rantz as reporting.  Miller also stated that no WSP workers will continue in their jobs unless they get the jab.
Hayward said "we owe it to ourselves and our principles to learn how to be more effective."  He's learned by experience over time and feels that most of the time rallies are not beneficial.  He believes sign waving's going on around the state "is great so long as people are networking and connecting and trading information and getting to know each other in their small communities." He thinks this is "very powerful." 
Hayward said that a benefit of sign waving's can call people to more information that "the crap" the media feeds them.
One of the benefits of having a large rally on the weekend is so that state employees can attend.  They need people to come from eastern Washington so a weekend rally is best for people having to travel long-distance. 
Hayward said rallies serve to;
"Share courage among people attending the rally and share the stories of people and why they can't go along with the mandate."
Hayward said he gets 100's of calls a day about the mandate.  A health care facility told him that 50% of their employees are not going to comply with the vaccination.  He points out that healthcare companies are not going to be able to function with the loss of so many of their staff.
Because so many health care companies will have to shut down Hayward believes the governor won't be able to go through with the terminations of so many employees as he is threatening now.
Miller said that;
"Many people witnessing the rallies now don't feel so alone and isolated for taking a stand against getting the jab." 
Miller and Hayward discussed how it is important that workers should not quit their jobs, but show up to help the public to help prevent the public from being in danger, such as first responders.  Forcing the powers that be to force them out is the only way they should quit.
Hayward brought up lawsuits happening in Washington state.  His organization filed one in Oregon and is getting ready to file one "next week" but due to not being part of the legal department he was not sure.   
He goes on to say that he does not believe there is a legal or a legislative solution to the mandates forcing the termination of so many employees.  He produced a video about why a bill that was going around was not going to work, that it was going to be "the silver bullet" and directed people to contact their legislators.   He explained that passing a bill wouldn't work in his video "that got 28,000 views." 
He said theoretically there could be solutions legally or legislatively, but "neither of them are necessary."  
He said; 
"It doesn't matter if it's legal or not, it only matters if they can get you to comply or not." 
Miller discusses having 10's of thousands of people in groups that are against the mandate.  One group alone has over 40,000 people, he said.   Ten thousand people out of those groups could show up yet he is frustrated that some say they won't be able to show up.  He says people should cancel their plans and show up because;
"This is the fight."  
He said people making excuses about not being there should not contact him ever again.  He further expressed his strongly held conviction that; 
"This is literally the fight of our lives because if we lose this, if we lose this, we don't have lives.  We're done.  At least in this state we're done."
Miller said that even if you plan on moving out of the state, that this is not where the mandates will stop, they will follow you at the federal level whatever state you move to.  
He said;
"You would have to have an incredible amount of space between your ears if you think it's going to stay here.  Because we have at least another three years at the federal level of this nonsense, and it is going to be pursued wherever you try to run to."
Miller said that people should;
"At least make a stand while you're here to stand.  You're going to flee the battlefield, at least make the enemy pay for it."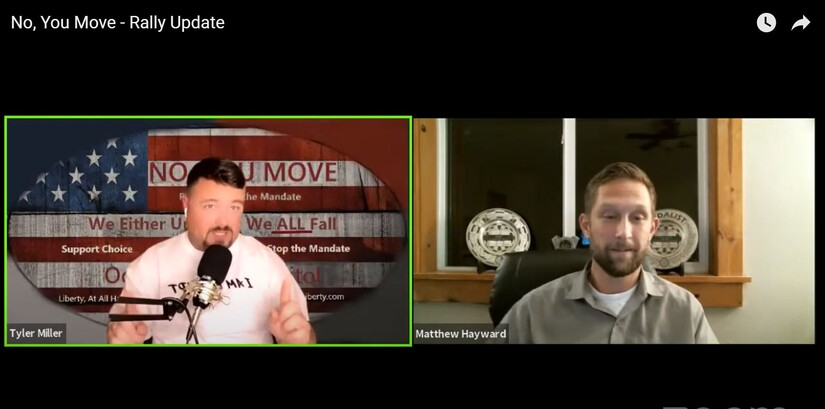 See the entire video on Tyler Miller's YouTube channel.
---
The Bellevue Zone welcomes your comments.
Please become a subscriber, it's free!